Hotel AmfionWelcome to our Hotel!
Hotel AmfionOlympic Beach, Pieria
Next to the SeaAt the foot of Mount Olympus!
Hotel AmfionMake Your Reservation!
Hotel Amfion
Hotel Amfion is situated in Olympiaki Akti of Pieria Greece, at Areos 71 & Terpsichori Gonia street, only 3 min. walk from the beach. Amfion was created to delight visitors who want to experience tranquillity and the attractive side of Olympiaki Akti.
It's a three floor building with 18 spacious and comfortable rooms, 1 double, 1 superior, 15 triples and 1 family.
All rooms have a private balcony and most of them have sea and Olympus mountain view. They also have wireless internet, a flat tv and a hair dryer.
Furniture of classical style with warm earthy colours blend in elegance and discreet luxury with an aura of nobility from the cozy cafe-bar to the luminous dining room.
In Amfion Hotel you will always be greeted with a wide smile and a kind welcome.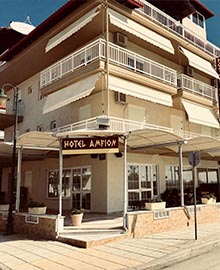 Amphion & Zeus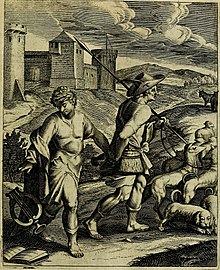 Mythology
According to Greek Mythology, Amphion was the twin brother of Zethos.
The two children were born from Zeus and Antiope, the daughter of Asopos river.
Their mother gave birth to Cithaeron Μountain and the children were raised by shepherds.
The Ancient Greeks considered him one of the greatest musicians of his time.
Amphionas began playing his seven-string lyre in such enchanting ways that the stones were assembled on their own.
Thus, the famous walls of Thebes were built, with seven gates, same number as the strings of the lyre.
Our Amenities
Family Rooms
We have 1 family room with separate bedrooms and a small hall.
Check-in/out
Check-in is from 14:00 to 18:00 and check-out is from 10:30 to 12:00.
Free Wi-Fi
Free Wi-Fi access throughout all rooms and hotel facilities.
Free Parking
There is a large parking lot opposite the hotel.
Airport Transport
We provide airport transfer and pickup (extra charge).
Languages Spoken
Our staff can serve you in English, Greek and Russian.
Olympic Beach
Olympic Beach is located in the eastern part of Pieria, a perfect destination for your summer holidays. Its shores are sandy, fully organized and are part of the Olympic Riviera. Along them you will find a wide variety of shops, cafes and Greek traditional taverns. Olympic Beach is 2km. away from the Paralia, 5km. from Katerini and 70km. from Thessaloniki and its International Airport.

Bojan Sadzak - Bosnia and Herzegovina